VanityPRO FAQ
Q: Where can I find VanityPRO's User manual?
A: Download if here. Or visit the Audiopraise website.
Q: Where can I find VanityPRO's firmware updates?
A: FPGA v5.1 and HDMI v35 and are available on the Audiopraise website. Check the "Software Update" section in the user manual on how to install. Firmware update is done via the VanityPRO's USB-B service port using a windows computer with an available USB-A or USB-C port. A converter cable from USB-A to USB-B or from USB-C to USB-B is needed.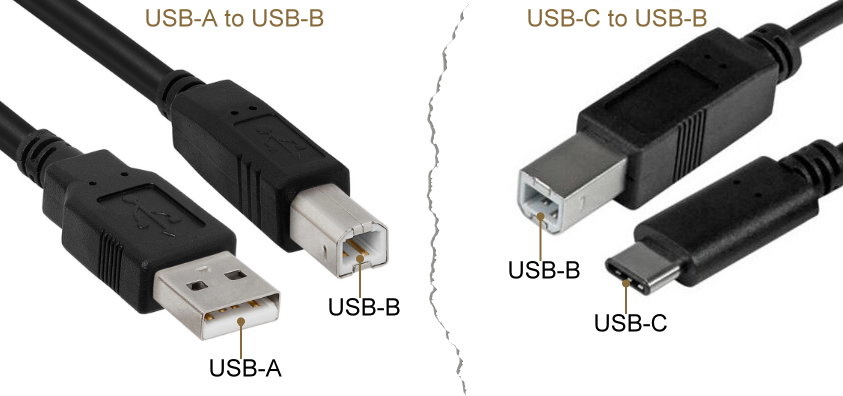 Q: What is the channel allocation of the VanityPRO outputs?
A: Each output carries 2 channels, except the USB version.
AudioPair
 Vanity

PRO

Digital Audio Outputs
 
FL/FR
U
S/PDIF1
AES/EBU1
 TOSLINK1 
 Stereo output board
C/LFE
S
S/PDIF2
AES/EBU2
SL/SR
B
S/PDIF3
AES/EBU3
SBL/SBR
1
S/PDIF4
AES/EBU4
 
USB
Multi-
channel
output board

in beta test
RCA/BNC
Multi-
channel
output board

Available
XLR
Multi-
channel
output board

Available
Q: Does the VanityPRO support Analog Audio?
A: No. All outputs are Digital Audio in S/PDIF, AES/EBU, TOSLINK or USB format.
Q: What are the min/max digital output voltage for the VanityPRO?
A: The AES/EBU (on XLR connectors) signal level is 2Vpp unterminated and 1.4Vpp terminated with 110R load impedance. For SPDIF it's 1Vpp unterminated and 500mVpp terminated with 75R load impedance.
Q: Can I directly connect an Apple 4K TV via HDMI to the VanityPRO and connect the Genelec AES cables to the AES/EBU output of VanityPRO? Will VanityPRO decode all LPCM signals like Dolby Digital, DD+, Atmos, DTS, DTS True HD, DTS Master? Apple TV supports these formats.
A: Yes, the AppleTV can be connected directly to the VanityPRO via HDMI. The Genelec speakers can then be connected digitally to the VanityPRO's AES/EBU outputs. The VanityPRO does not feature any compressed multichannel audio decoders such as Dolby Digital, DTS, Atmos, etc. The VanityPRO needs to receive decoded LPCM or DSD audio. The Dolby decoders are usually available on the HDMI source side, blu-ray players, streamers - including AppleTV. For AppleTV go to: Settings -> Video and Audio and select Audio Format. Under the Atmospheric Audio tab, enable Dolby Atmos.
Q: Will the VanityPRO pass hi resolution audio from it's HDMI input through it's AES/EBU digital output?
A: Yes, the primary purpose of the VanityPRO is to extract digital audio from the HDMI stream in the highest quality possible.
Q: Is there a possibility to introduce High pass and low pass filters in the AES output signal chain?
A: It does not feature digital filters for individual digital channels. Further digital audio processing can be performed by dedicated equipment for either room processing, mixing, crossovers, etc. 
Q: Can I take HDMI out and use a splitter to connect to both TV and Projector?
A: Yes, the splitter should ideally have a controlled way of managing EDID (audio and video capabilities passed from the HDMI sink to the HDMI source). Most splitters do that correctly anyway.
Q: I have noticed that the device is sensitive to the HDMI out as well as the HDMI in connection. Since I use the same video monitor for the VanityPRO output as well as for my streamer/player, I have found that switching the display can interrupt the audio. Is there some way to fix that? Is a video output at all necessary?
A: Signal interruption during HDMI signal switching on the input or output is "normal" due to HDMI path re-initialization and EDID exchange/update. This is not related specifically to the VanityPRO. You may be able to get rid of this by inserting an active HDMI element such as splitter/repeater/multiplexer between the VanityPRO (TX) and your video monitor. Alternatively, you could use a HDMI splitter between the HDMI source and the VanityPRO (RX port), and leave the TX HDMI port unconnected.
Q: Is there some way to set a fixed sample rate for PCM?
A: The PCM sample rate is determined by the HDMI source. Basically, what comes in goes out and the signal path is bit-accurate. We might add synchronous PCM upsampling functionality in the future via software update.
Q: Any comment on eARC compatibility?
A: The HDMI subsystem of the VanityPRO is HDMI2.0a compatible. Therefore it can only support ARC (2ch), not eARC.
Q: Can I switch/change the VanityPRO's audio output module myself?
A: Not yet. This will be available in the near future. For now the output boards are not available in DIY form. The installation of it could cause damage to the VanityPRO. To change to a different audio board you need to return the VanityPRO to your dealer. This is a free service up to 3 months after ordering the VanityPRO. Only costs involved are for transportation.
Q: Extractor mode works fine but not Repeater mode.
A: Repeater mode, as per the manual, is mainly for EDID issues debugging when the TX port has a known EDID content to check against the HDMI source, there isn't any other meaningful use for this. The VanityPRO should be set to Extractor for normal operation.
Q: Does the VanityPRO support DSD to PCM conversion rate at 24/88 or 24/176?
A: Yes, see also the "Specifications" section of the user manual.
Q: What are the Word- and Super-Clock outputs of the VanityPRO used for?
A: These outputs can be used to sync with external DACs.
Q: Using one of the 4xRCA/XLR/BNC 8-channel output boards, what amplifier do you need?
A: Using the Multi-channel output version of the VanityPRO, one can use multiple (max 4) stereo DACs or one can use a single multi-channel DAC like e.g. the Okto dac8.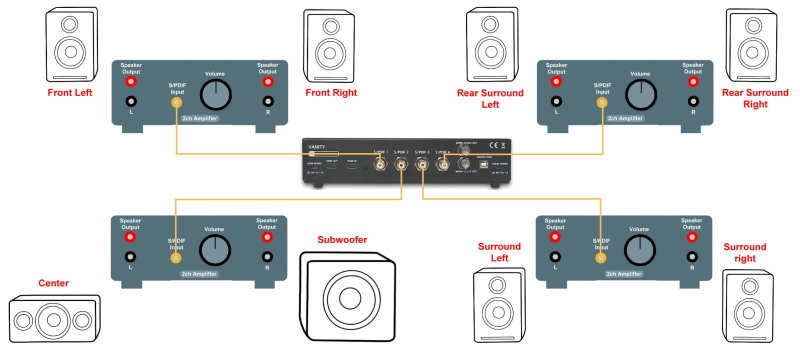 Q: What does the 2ch VanityPRO look like in real life?
A: