SVS 2000 PRO Series Pers beoordelingen en Recensies
Home Theater Gamer (YouTube) Reviews Dual PB-2000 Pros, Watch Video
"Simply put, this ported subwoofer is freaking awesome. It brought a level of clarity to bass that I've never experienced before, with a nice punch that I felt while sitting comfortably on my couch. Absolute gamechanger of a home theater ported subwoofer and highly recommend!"
HiFi+ Reviews SB-2000 Pro Subwoofer, Read Review
"The SVS SB-2000 Pro sub surprised me… in a good way. It would be all too easy to dismiss all subs as 'home cinema stuff' but this is more about audiophile prejudice than any sonic considerations. The flexibility of this subwoofer makes it a great addition to any system regardless of whether you are into John Coltrane or John Wick." 

Home Cinema Choice Reviews PB-2000 Pro Subwoofer, Print Only
"This 12in bass-maker sounds thrillingly pure of tone, and surprisingly tight considering its ported nature. It does both low, extended rumble and sprightly bass hit exceptionally well for the money."
Erin's Audio Corner (YouTube) Reviews SB-2000 Pro & SB-3000, Watch Video
"If you're on a strict budget or have room limitations, the SB-2000 Pro is the perfect solution that will give you extreme low frequency extension. The SB-3000 takes it to the next level, infinite bass that will leave you blown away. Either choice is a winner, highly recommend!"

Audioholics Honors PB-2000 Pro with "2020 Product of the Year" Award, See Award
"More than just the regular SVS PB-2000 with a couple of added features, it is an entirely new redesign with major performance gains, especially in mid-bass frequencies which is where so much content dwells. The 2000 Pro Series hits a lot harder than its predecessor ever did. Along with the boost in performance, the PB-2000 Pro adds SVS Subwoofer Control App for smartphones as well as native support for a sealed operating mode. It also has an uptick in aesthetics with symmetric ports and a fabric grille. The PB-2000 Pro is a major upgrade over the previous series, not a minor one, and it easily earns our product of the year for subwoofers."

Medium, SB-2000 Pro Recommended in Subwoofer Article, Read Article
"The SB-2000 Pro by far blows away everything I have ever heard anywhere till this point except maybe the 30 inch sub at the studio (as big as a dining table). I honestly do not know why you would want to spend more money on a different sub. It sounds significantly different than any other subwoofer I have heard. As expected, I get zero headache because the bass sounds like it is part of the physical environment. No more overpowering headache when I hear the bass drop in "God is a woman". What blows my mind is how different that song sounds with this sub — I don't get it."

AV Tech Media (Home Cinema Choice, Hi Fi Choice, HiFi News) Honors SB-2000 Pro with "Best Subwoofer 2020 Award", (Print Only)
"A polished performer, capable of delivering deep bass from a compact cabinet, while simultaneously remaining controlled and fleet of foot. Crisp delivery and lightning-fast reactions, the SB-2000 Pro can stop and start on a dime and deliver tangible low frequency shockwaves. Higher-end features make it a competitively priced option for both film and music."

HiFi Test (Germany) Honors PB-2000 Pro and SB-2000 Pro as Dual Winners "Product of the Year 2021 – Subwoofer", See Award
"Enormous levels and undistorted playback down to the deepest levels. Optimal sound in the real listening rooms, even room modes can be targeted and corrected via the Smartphone app. SVS once again achieves a great success. Both models deliver first class sound, extremely deep reproduction and plenty of level reserves."
YouTube Creator "Erin's Audio Corner" Reviews PB-2000 Pro Subwoofer, Read Review
"Overall, I give this subwoofer an A+. An extremely well-constructed, solid subwoofer for its price range that outperforms the competition. Great output, awesome Bluetooth app that makes life easy and very user-friendly, highly recommend!"

HiFi+ Honors SB-2000 Pro with "2020 Subwoofer of the Year", Print Only
"The bass depth shows just how good a modern subwoofer can be. While depth, weight and authority used to be audiophile code for boomy and overpowering, on the SB-2000 Pro, it holds no double meaning. It really shows how far subwoofers have come for both home cinema and HiFi."

YouTube Creator "Home Theater Gamer" Reviews PB-2000 Pro Subwoofer, Read Review
"If you're thinking about upgrading and want excellent output extension with clean tight bass, then this subwoofer is well worth your money. Tremendous output with room shaking bass at a reasonable price point."

AV Forums Names SB-2000 Pro Editor's Choice "2020 Best Value Subwoofer", See Award
"A fantastic value subwoofer that delivers an accomplished performance and some cutting-edge tech at a surprisingly affordable price. If you like a compact cabinet and deep bass that's delivered with control and speed, then this is the sub for you. It's also a very flexible subwoofer that can pull double duties with movies and music, while also providing a tight and nimble low frequency foundation for your home cinema."
AV Forums Names PC-2000 Pro Editor's Choice "2020 Best Subwoofer Solution", See Award
"The ideal solution to a specific Home AV problem: getting deep bass when you have limited space. This cylindrical subwoofer produces the depth of the PB-2000 Pro combined with the smaller footprint and nimble delivery of the SB-2000 Pro. It's very flexible in terms of positioning, so you can simply stick it in the corner where it will take up very little space. However, it's not just practical, it's also extremely good, and is capable of delivering deep and distortion-free bass with a surprising degree of subtlety.

Audiovisual Front (China), SB-2000 Pro, Read Review
"The low frequency is not only full and natural, but more importantly, the details and layering of the low frequency are still clear. Performance of the SB-2000 Pro sounds more like a larger, more expensive subwoofer level. Powerful, stable and fast low frequency, can cope with various film and music occasions. Its operation is so convenient that many aspects and various debugging can be changed while holding the app. It is a new mid-range subwoofer with high cost performance."
Audioholics Names PB-2000 Pro "2020 Best Powered Subwoofer Under $1,000", Read Review
"The SVS PB-2000 Pro keeps the superlative low-distortion and extension that SVS is known or while dramatically improving mid-bass headroom. That alone would have been worth the cost increase, but SVS also adds in their app control which comes with a three-band parametric equalizer, as well as support for a sealed operating mode. SVS finds their usual optimal balance between performance, features, industrial design, not to mention their gold-standard setting post-purchase support. SVS also has another superbly well-rounded product in the PB-2000 Pro."

AV Nirvana, Dual PB-2000 Pro, Read Review
"A deep digging and articulate subwoofer that punches far above what it's modest price would suggest. Unassuming and relatively compact for the performance levels it delivers. When playing in duals, the room seemed to pressurize, and a literal feeling of momentary breathlessness came over me. The Black Ash vinyl veneer has a real-wood appearance that lends a premium look and feel to the subwoofer. Easy to install and integrate using the downloadable SVS Smartphone App."

Audioholics, PB-2000 Pro Earns Bassaholic Award, Read Review
"It possesses both the sound quality and quantity that can handle a large-scale exercise in heightened realism. This is punch-in-the-chest level bass. The basslines produced by the PB-2000 Pro were so thick that you could cut them with a knife. The weight of the bass that this sub could produce seemed implausible for its size, and I checked to see if I had accidentally left another subwoofer on; I hadn't."

YouTuber "Nemo Propaganda" Reviews SB-2000 Pro Subwoofer, Watch Video
"The SB-2000 Pro is a phenomenal full-range subwoofer that delivers extreme low frequency extension. No matter how challenging the song I threw at it, no matter how low the frequency extension was in the music, there was nothing missing. Highly recommend!"
HiFi (Netherlands), PC-2000 Pro, Read Review
"Fierce but not overwhelming. It filled the room with even and controlled bass. You get the full impact and you also get those ultra-low tones. Generating earthquakes in films is no problem, but it can also be subtle for stereo music lovers."

YouTuber "HEIMKINORAUM" Reviews PB-2000 Pro Subwoofer, Watch Video
(German language, requires translation)

Stereoplay (Germany) "Outstanding" Award, SB-2000 Pro, Print Only
"The US subwoofer specialist achieves maximum performance through technology taken from its reference 16-Ultra series. SVS focused upgrades from the previous 2000 Series models entirely on the sound. Savings measures were implemented so carefully and with expertise that the essential aspects of performance are convincing even beyond the acoustic performance, including control and versatility."

Audio Magazine (Germany), SB-2000 Pro, Print Only
"Brands that always deliver top results and deliver real excitement are usually aloof and expensive. In this respect, SVS has a very special position with its subwoofers. The new SB-2000 Pro succeeds in lowering the price threshold and dropping jaws again. It blended in perfectly without a long set-up. The bass didn't just increase, but suddenly went deep into the cellar and seemed a lot crisper. Hard to believe what extra kick this relatively small subwoofer with large boxes produces."

Expert Imaging & Sound Association (EISA) Names SB-2000 Pro "Best Home Theater Subwoofer", LINK TBD
"SVS has taken innovations from its larger, pricier models and built them into this new compact subwoofer. Offering a high level of performance at an affordable price, the SB-2000 Pro partners its custom 12in bass driver with a 500W 'Sledge DSP' amplifier, and becomes the entry-point for SVS's app-based parametric EQ and control system. And while the sealed cabinet may be 'small', its performance is anything but – this is a polished performer that unearths both the nuance and scale of movie soundmixes, delivering dramatic, deep bass while simultaneously remaining controlled and speedy."


AV Forums Honors PC-2000 Pro with "Highly Recommended" Award, Read Review
"Seismic bass with power and serious depth. Low frequency effects are clean and free of distortion, but also highly responsive, with performance that's tight and nuanced. Capable of delivering deep and distortion-free bass with a surprising degree of subtlety. It can handle both music and movies, with a fast and responsive delivery that suits the former, combined with a powerful and deep low frequency attack that will enhance the latter."

YouTuber "SpareChange" Reviews SVS PB-2000 Pro, Watch Video
"Shakes the room violently with massive output. It will deliver a big, booming cinematic experience and easily hits down to 20Hz with authority. A tough subwoofer to beat for the price, it will definitely blow you away."
AVS Forum Names SB-2000 Pro as "Top Choice 2020", Read Review
"It hits hard, accurately. The precision of its output complements music, movies, TV shows and video games equally. A complete product, with high performance and fit & finish to match. Feature-wise, you won't find similar capabilities at this price point."

Sound & Vision Names SB-2000 Pro as "Top Pick" for Subwoofers, Read Review
"Just as proficient at pumping out huge explosions in action movies as it is playing in a two-channel audiophile setup. Tight, articulate bass that starts and stops on a dime, it expanded the size of the soundstage in a dramatic way that sonically transported me. Highly Recommended."

Heimkino, 2000 Pro Series Earn "Outstanding Product" Awards, Print Only
"Both woofers in the laboratory test easily reach lower limit frequencies of fabulous 18 Hertz with enormous output levels, whereby the ported cabinet PB-2000 Pro brings a little more dynamic reserves and thrust. The strengths of the sealed SB-2000 Pro lie more in its crisp, pinpoint accurate playing style. For a price of around 1,000 euros, both models offer first-class sound, extremely deep playback and plenty of level reserves. "

AV Rant Podcast, Dual SB-2000 Pro, Listen to Podcast
"It just seemed like everything opened up…Deep, rich chocolatey bass notes…Everything just seems a little more realistic and more effortless. It's like being in a different space, in the best way possible. A total game-changer."

Reference Home Theater, SB-2000 Pro, Read Review
"Small enough to disappear into a room, but makes movies and music come alive and even full-range speakers sound much larger than they did before. A fantastic sub the plays much deeper than I ever expected it to. I was very impressed!"
AV Forums, SB-2000 Pro, Read Review
"Delivered exacting precision and depth, with energetic slam and plenty of depth. It's also well-controlled and responsive with crisp delivery and flexible setup and control options. A polished performer and highly recommended."

Soundstage, "Reviewers' Choice" Award, SB-2000 Pro, Read Review
"Ridiculously impressive -- very fast, very tight, and very deep, with enough output to fill my room. It was difficult to believe that such a small box was delivering such impressive bass output. There was a phenomenal sense of speed to the bass -- it was fast, nimble, and exhilarating. All of this was delivered with big volume and big scale, completely belying the diminutive size. SB-2000 Pro brings to a low price and small size a level of bass quality I didn't think possible."

HiFi Audio Guru, SB-2000 Pro, Read Review
"Bass had a thunderous impact with excellent texture and made the music come to life. The dynamic bass was impactful yet had an amazing texture. The Chora speakers, in my large room, were significantly better with the SB-2000 Pro subwoofers. Created an exceptional listening experience that will not soon be forgotten. An outstanding addition to any system looking for full-range musical bass. The bass performance is exceptional and the delivery and integration in this system were flawless. 

Home Cinema Choice, "Best Buy" Award, SB-2000 Pro, Print Only
"A polished performer, capable of delivering deep bass from a compact cabinet, while simultaneously remaining controlled and fleet of foot. Crisp delivery and lightning-fast reactions, the SB-2000 Pro can stop and start on a dime and deliver tangible low frequency shockwaves. Higher-end features make it a competitively priced option for both film and music. Cracking value."


EISA Names SB-2000 Pro "Best Home Theater Subwoofer"
"SVS has taken innovations from its larger, pricier models and built them into this new compact subwoofer. Offering a high level of performance at an affordable price, the SB-2000 Pro partners its custom 12in bass driver with a 500W 'Sledge DSP' amplifier, and becomes the entry-point for SVS's app-based parametric EQ and control system. And while the sealed cabinet may be 'small', its performance is anything but – this is a polished performer that unearths both the nuance and scale of movie soundmixes, delivering dramatic, deep bass while simultaneously remaining controlled and speedy."
HiFi (Netherlands) Reviews the PC-2000 Pro Subwoofer
"Fierce but not overwhelming. It filled the room with even and controlled bass. You get the full impact and you also get those ultra-low tones. Generating earthquakes in films is no problem, but it can also be subtle for stereo music lovers."
AV Forums Names PC-2000 Pro Editor's Choice "2020 Best Subwoofer Solution"
"The ideal solution to a specific Home AV problem: getting deep bass when you have limited space. This cylindrical subwoofer produces the depth of the PB-2000 Pro combined with the smaller footprint and nimble delivery of the SB-2000 Pro. It's very flexible in terms of positioning, so you can simply stick it in the corner where it will take up very little space. However, it's not just practical, it's also extremely good, and is capable of delivering deep and distortion-free bass with a surprising degree of subtlety."
HiFi Test (Germany) Honors PB-2000 Pro and SB-2000 Pro as Dual Winners "Product of the Year 2021 – Subwoofer",
"Enormous levels and undistorted playback down to the deepest levels. Optimal sound in the real listening rooms, even room modes can be targeted and corrected via the Smartphone app. SVS once again achieves a great success. Both models deliver first class sound, extremely deep reproduction and plenty of level reserves."
Audioholics Honors SVS PB-2000 Pro with Prestigious 2020 "Product of the Year"
"It is an entirely new redesign with major performance gains, especially in mid-bass frequencies which is where so much content dwells. The Pro iteration of the 2000 series hits a lot harder than its predecessor ever did. Along with the boost in performance, the PB-2000 Pro adds SVS Subwoofer Control App for smartphones as well as native support for a sealed operating mode. It also has an uptick in aesthetics with symmetric ports and a fabric grille. The PB-2000 Pro is a major upgrade over the previous series, not a minor one, and it easily earns our product of the year in the class of affordable subwoofers. A FREE 45 day home trial with paid shipping both ways makes this subwoofer a no brainer."

AVTech Media Awards SB-2000 Pro "Best Subwoofer 2020/2021"
"A polished performer, capable of delivering deep bass from a compact cabinet, while simultaneously remaining controlled and fleet of foot. Crisp delivery and lightning-fast reactions, the SB-2000 Pro can stop and start on a dime and deliver tangible low frequency shockwaves. Higher-end features make it a competitively priced option for both film and music."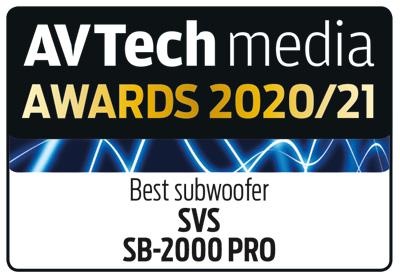 Audiovisual Front (China) Reviews the SB-2000 Pro Subwoofer
"The low frequency is not only full and natural, but more importantly, the details and layering of the low frequency are still clear. Performance of the SB-2000 Pro sounds more like a larger, more expensive subwoofer level. Powerful, stable and fast low frequency, can cope with various film and music occasions. Its operation is so convenient that many aspects and various debugging can be changed while holding the app. It is a new mid-range subwoofer with high cost performance."
HiFi+ Honors SB-2000 Pro with "2020 Subwoofer of the Year"
"The bass depth shows just how good a modern subwoofer can be. While depth, weight and authority used to be audiophile code for boomy and overpowering, on the SB-2000 Pro, it holds no double meaning. It really shows how far subwoofers have come for both home cinema and HiFi."
SB-2000 Pro Subwoofer Receives Sound & Vision's "Top Pick" Award
"Just as proficient at pumping out huge explosions in action movies as it is playing in a two-channel audiophile setup. Tight, articulate bass that starts and stops on a dime, it expanded the size of the soundstage in a dramatic way that sonically transported me. Highly Recommended."